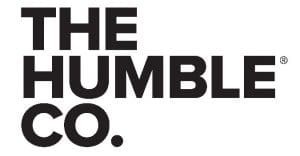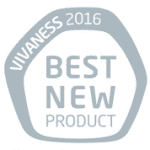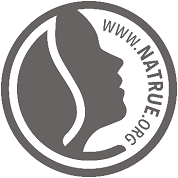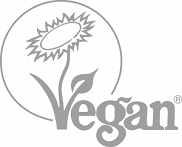 The Humble Co

Established in 2013, The Humble Co. is growing throughout the world. The products are available today in thousands of stores and dental clinics. Based in Sweden, The Humble Co. is leading a small revolution in personal care products – from design and manufacture to humility.
All products have been conceived, designed and manufactured under the guidance and supervision of dentists. They believe that first and foremost, the products must have an evidence-based benefit and must perform effectively.  Therefore, they have put significant time into testing and refining all products to meet this priority.
All The Humble Co. products are characterized by a set of humble values. It is the combination of these characteristics that is unique and sets The Humble Co. products apart from the rest.
The Humble Co. Product Values (the Humble Ps):
Health/ Wellness products that enhance quality of life by improving lifestyle choices and habits. (Prevention)
Premium products with a production process and final result that provide the consumer with the sense of owning a superior quality product. (Premium)
Evidence-based innovations that are and endorsed by professionals to provide consumers with the confidence to make the switch. (Professional)
Eco-friendly manufacturing, packaging and disposal of the product for the lowest possible environmental footprint. (Planet)
Socially responsible distribution of products to help those most in need – administered by Humble Smile Foundation. To Learn more about Humble Smile Foundation, please click here  (People)
Story telling in plain and simple language as the basis for communication with the consumers for easy and meaningful identification with the brand. (Plain)
Profitability as the mechanism for driving growth and impact, while keeping products competitive and comfortable in the average consumer cart. (Profit)
There is no Planet B.
The Humble Co. develops reliable health/wellness products, that are eco-friendly and socially responsible, with an innovative twist.
The world's most sold bamboo toothbrush with a handle made from 100% biodegradable, sustainably-grown bamboo. Quality bristles from DuPont, available for adults and kids.
Let's talk about the bristles.
We want to offer the highest quality toothbrushes without losing sight of our values for sustainability and making the world a better place.
We chose to use nylon-6 because it has a lower hardness (which is good for your teeth) and a lower water absorption (which is good for keeping your brush hygienic) compared to other types of nylon. It's a strong, durable and hygienic synthetic material. We're proud to say that our bristles are produced by DuPont, the first major manufacturer of nylon bristles with over 70 years of experience.
To summarize – Brush without worries!
Humble Brush is a toothbrush that will clean just as well and last just as long as your regular plastic toothbrush, with the added benefit of being better for the environment. With a 100% sustainable bamboo handle, Humble Brush is the eco-friendly and socially responsible toothbrush choice, as every Humble purchase funds projects for the benefit of children in need.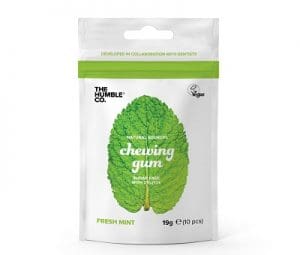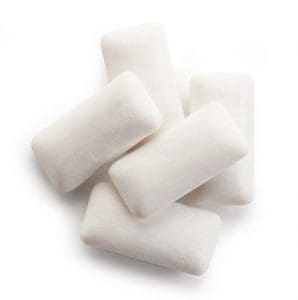 Did you know that regular chewing gum actually consists of a plastic gum base? We don't believe in chewing on plastics, so we made our own, consisting of only natural ingredients and gum base from trees.
Floss Pick
Made of Corn
Floss picks made entirely from plastics? Old school.
Try the Humble floss picks that use corn-starch as its main base.
Comes packed in an eco-friendly paper bag.
Humble floss picks make flossing a piece of cake! The double threading ensures that food debris is effectively removed whilst the shape of the pick promotes easy access to those hard to reach places. Made primarily from corn-starch and packaged in eco-friendly paper packaging, Humble floss picks aim to minimise the stress on our environment whilst providing a first-class experience.
Use Humble floss picks daily and give your mouth something to smile about!
Kids Humble Brush
Floss in yummy flavours
Other Chewing Gum flavours
Toothbrush Case
Toothbrush stand
Interdental brushes
Cotton buds
Bamboo straws